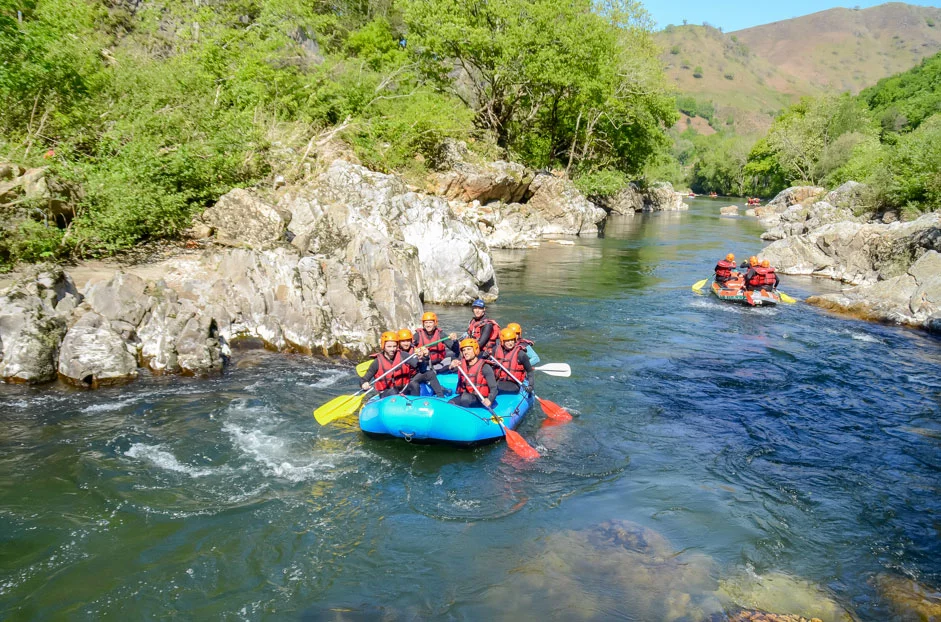 Seminar
Basque Country Seminar
For your seminar in the Basque Country, incentive event or teambuilding. Nothing better than a challenge in white water to strengthen team spirit and competition
Do you want a safe and friendly activity with perfect group cohesion?
Ur Ederra Rafting on the Nive in Bidarray is the specialist for you!
2 formulas:
A descent of 1h30/2h00, crossing the superb gorges of the Nive will take you to Bidarray, a superb typical Basque village.
Our team, passionate about whitewater, will lead you on this descent where rapids alternate with calmer waters in an extraordinary landscape.
Knowing how to swim and immerse yourself is compulsory.
Ur Ederra Rafting in Bidarray in the Pyrenees 64 is a structure approved by the Ministry of Health, Youth and Sports under number 06496ET0162
You are on vacation at Saint Jean de Luz, Bidarray is only 35 minutes from Saint Jean de Luz.
You have already visited the magnificent bay of Saint Jean de Luz, discovered the authentic port of Saint Jean de Luz and stroll the superb streets of Saint Jean de Luz !!! So come and join us in Bidarray just a few kilometers from Saint Jean de Luz.
Le Mans 24-hour standing start race
Slalom on a technical passage
Flotting: Consists of passing a class 3 passage by swimming
Rock jump (optional): from 2 to 8 meters for the more adventurous!
Water games: joust, balance...
Little quiz for your team:
What is called a tie in raft jargon?


A raft that wraps around a rock
What is the rope technique called for unjamming a raft?


A muffling
How are rivers classified?


From class 1 to 6
What are the 2 manufacturing materials of a raft?


Hypalon and pvc

 

What is rolling?


This is the technique to get right back when you turn around

 

What is the name of the knot in a rope that tightens when you pull on it and is very easy to untie?


The capstan
What do you call the place where water goes under one rock and comes out the other?


a siphon
What do you call the movement of water that if you fall in it you don't come out?


A reminder
What is the name of the river where we are going to sail?


The Nive
What is the name of the village where you are going to sail?


Bidarray is a typical old village
Are there any historical monuments in Bidarray?


Yes there is the Pont d'enfer and the magnificent church
What else to do in the Basque Country?


This place is the top of the sport-leisure where you can face the rapids of class 2 or 3 by strong waters in the spring.
Rafting down the Nive in Bidarray in the Basque Country (Pyrenees 64).
Rafting is independent of weather conditions…"Rainy day, no worries, we provide you with the wetsuits! "
Open from 09:00 to 19:00 in July and August
All year round by reservation
You are in seminar in Biarritz and you want to discover our formula " Biarritz rafting » in the gorges of the Nive valley in Bidarray.
The Ur Ederra team is there to welcome you and share its passion for whitewater with you.
Specialist for 30 years in the organization of challenges and challenges for seminars.
You will embark on 8-seater rafts and 3/5-seater mini-rafts. You can switch from rafts to mini-rafts and thus try these boats during the descent.
Halfway through, a small Canyon-type stop: the convoy stops and those who want to will climb the 8-meter cliff to make a dizzying jump into the river!!!
This formula " Biarritz rafting » is only 30 minutes from Biarritz, enjoy!!!